epodium publishing company

contemporary art | theory | performance | art history | aesthetics | exhibtion catalog
Edition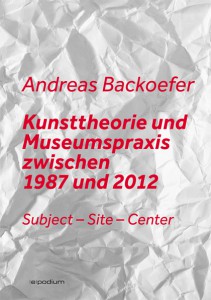 Andreas Backoefer
Kunsttheorie und Museumspraxis zwischen 1987 und 2012

Subject – Site – Center
epodium Verlag, München 2015
ISBN 978-3-940388-41-4
180 Seiten, 24 Euro
Das Buch ist hier und in jeder Buchhandlung erhältlich.
Kunsttheorie und Museumspraxis zwischen 1987 und 2012 unternimmt den Versuch, den Zusammenhang der zeitgenössischen Theorie-, aber auch Kunstproduktion mit der Ausstellungspraxis von Museen anhand ausgewählter Beispiele zu beschreiben.
Die Ordnungslogik der Begriffe Subject – Site – Center etabliert innerhalb eines Feldes eine Überlagerung von theoretischem Denken, künstlerischem Tun und institutioneller Strategie, wobei diese Felder nicht eindeutig voneinander abgrenzbar sind. Auf verschiedenen Ebenen ist dabei die Beobachtung des Wechselspiels von künstlerischer wie wissenschaftlicher Performativität (Handeln) und institutioneller Reflexion (Zeigen) möglich. Diese Analyse führt nicht zu Resultaten, sondern stellt eine probeweise Inszenierung von Wissen und Wissensformen dar.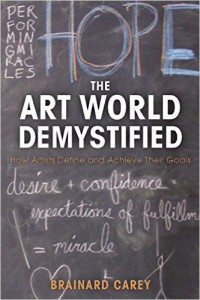 Brainard Carey
The Art World Demystified
How Artists Define and Achieve Their Goals
Allworth Press, New York 2016
308 Seiten, 19,19 €
Das Buch ist im epodium Bookshop erhältlich.
The Art World Demystified unfolds the confusing and often treacherous terrain of the art world, revealing the inner workings of a system that has few rules but many opportunities. In this volume, artists will find their own questions reflected and addressed, including:
How does an artist penetrate the inner circle of the art world?
How do museums choose exhibits?
How can an artist reach critics and get feedback?
How do artists make a living, and how much can they expect to make?
What are the "rules" of the art world?
Why is it all so mysterious?