Close
Einsiedler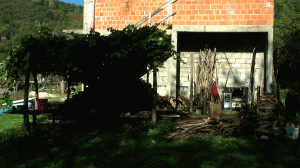 Einsiedler, 2015
HD-Video
COUNTRY OF PRODUCTION: Bosnia
Full Length: 1 min 51 sec
Editions: 10
Als alles vorbei war ist er wieder zurückgekommen. Wohin hätte er auch gehen sollen. Die Kinder sind irgendwo in der Fremde geblieben. Das Tal mit den lichten Laubbäumen wirkt seither noch unberührter. Für den Wiederaufbau hatten sie ihm Baumaterial an den Weg gestellt. Um ein wenig Geld zu verdienen fing er dann doch an in den Wald zu gehen. Holz sammelt er, Beeren und Kastanien. Ihm könne nichts passieren. Er wisse genau, sagt er, wo der Frontverlauf war. Ums Haus Gemüse und einige Obstbäume. Die Kaninchen hat der Hund, sein einziger Begleiter, als sie groß und fett waren, gefressen.
What happens when I click "Inquire"?
When you click "Inquire," you send an e-mail to epodium gallery to express your interest and we will follow up with you to answer any questions, confirm pricing and availability, if you're ready to go ahead with a purchase. We are also happy to provide contextual materials about the artist.