Close
Hit and Run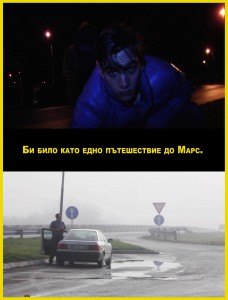 Hit and Run, 2016
2 Channel Digital Video, Color
COUNTRY OF PRODUCTION: Bulgaria
Full Length: 5 min 22 sec
Edition: 5
"Hit and Run" is a two channel video work by Kalas Liebfried, Stefan Natzel, Patrik Thomas and Mathias Reitz Zausinger and part of the project "Busbusiness".
The Project BUSBUSINESS was initiated by Kalas Liebfried and tests the terms of art-making in the era of ever accelerating communication and image production. Four artists of the fine and performing arts join journey from the Bavarian metropolis Munich to the capital of Bulgaria Sofia. The single task is that the artworks, which will be exhibited afterwards, must generate during the 24-hour bus trip. Thus the bus converts to atelier and workplace, the fellow travelers turn into assistants, the bus drivers – into accomplices, the road houses – into sceneries. … And the journey becomes a time capsule of an art production. With the arrival in Sofia the artworks are completed. The next step is their installation and presentation within the gallery "Victoria" in Sofia. The exhibition focuses on media like photography, video, sound and sculpture.
What happens when I click "Inquire"?
When you click "Inquire," you send an e-mail to epodium gallery to express your interest and we will follow up with you to answer any questions, confirm pricing and availability, if you're ready to go ahead with a purchase. We are also happy to provide contextual materials about the artist.