Close
Guesthouse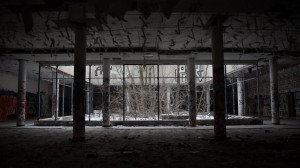 Guesthouse, 2013
Videoloop
Editions: 15
Der gezeigte Lichthof befindet sich in dem alten Gästehaus des Ministerrates der DDR in Leipzig. In den 70er und 80er Jahren war der Gebäudekomplex Unterkunft für ausländische RepräsentantInnen und Staatsgäste. Das Gebäude war durch enorme Sicherheitsvorkehrungen vom Außenbereich abgeschottet, was im starken Kontrast zu der Gastfreundlichkeit des Hauses stand. Der ganze Trakt wurde durch die Stasi überwacht und abgeschirmt. Ringsherum standen hohe Plattenbauten, die als Bombenfang gegen mögliche Bombenangriffe fungierten. Während im Innern zugunsten von SED-Funktionären und Staatsgästen eine kleine Enklave der westlichen Konsumstandarts mit Milka-Schokolade und Coca Cola etabliert wurde, blieb für die Leipziger Anwohner und Bürger das Geschehen im Haus intransparent und geheimnisumwoben.
Der Videoloop wurde in der im Zerfall begriffenen Ruine des Gästehauses aufgenommen. Abgesehen von leichtem, kaum sichtbaren Schneefall im Aussenraum des Lichthofes ist das Bild im Innenraum absolut unbewegt. Kein Sound.
//
The displayed atrium is located in the old guesthouse of the GDR´s council of ministers in Leipzig. During the 70s and 80s the building was used as an accommodation for foreign representatives and other guests of state. The building was isolated from the outside area by enormous safety precautions. This was in strong contrast to the hospitality the house stood for. The whole complex was surveilled and shielded by the Stasi. (State Security Service) High industrialized buildings around the complex served as bomb shields for potential attacks. On the inside a little enclave of western consume standards with Milka chocolate and Coca Cola was established in favor of SED officials and guests of state. For the citizens of Leipzig the events within the house remained non-transparent and secretive. The video loop was recorded inside of the guest house which is falling into ruin. Except for the light, almost invisible snowfall at the outside space of the atrium the picture in the interior is completely motionless. No sound.
What happens when I click "Inquire"?
When you click "Inquire," you send an e-mail to epodium gallery to express your interest and we will follow up with you to answer any questions, confirm pricing and availability, if you're ready to go ahead with a purchase. We are also happy to provide contextual materials about the artist.