Close
the time: anti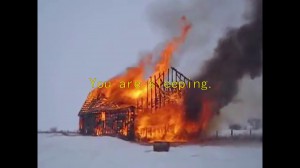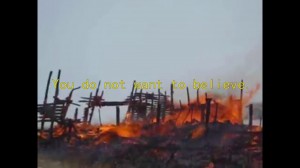 the time: anti, 2015
1 Channel Video, Color
COUNTRY OF PRODUCTION: Germany
Full Length: 5 min 09 sec
Editions: 5
A burning house in the middle of a snowy nowhere. A ghostly sounding voice that speaks: "You are sleeping. You do not want to believe." And a atonal piano piece.
"the time: anti" is a video work about the relativity of time and perception. Made out of a conceptual transcription from the official instruction of how to behave when a building is on fire into a music score, a text which is inspired by the EVP (electronic voice phenomenon) recordings of the Latvian writer an intellectual Konstantin Raudive and images from a found footage material.
What happens when I click "Inquire"?
When you click "Inquire," you send an e-mail to epodium gallery to express your interest and we will follow up with you to answer any questions, confirm pricing and availability, if you're ready to go ahead with a purchase. We are also happy to provide contextual materials about the artist.