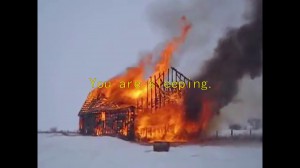 Kalas Liebfried: the time: anti, 2015, Videostill
epodium gallery is now presenting the video works of Kalas Liebfried.
the time: anti
A burning house in the middle of a snowy nowhere. A ghostly sounding voice that speaks: "You are sleeping. You do not want to believe." And a atonal piano piece. "the time: anti" is a video work about the relativity of time and perception. Made out of a conceptual transcription from the official instruction of how to behave when a building is on fire into a music score, a text which is inspired by the EVP (electronic voice phenomenon) recordings of the Latvian writer an intellectual Konstantin Raudive and images from a found footage material.
suche: "meer+sturm"
This is the third part of a found footage trilogy about the places of solitude in Friedrich Nietzsches "Thus spoke Zarathustra". While the other parts are dealing with the mountains and the desert, this one is exploring the sea as a rough and dangerous place for the one who lives in a positive solitude. The one who is deconstructing all the social influenced values and perceptions, aiming a way to create his own individual mind.