Close
Drawing Series "Atlantic" (No 4)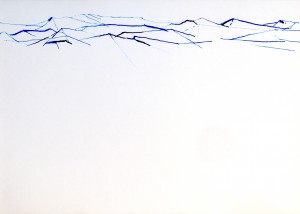 Drawing Series "Atlantic" (No 4), 2009
COUNTRY OF PRODUCTION: Germany
Blue ink on paper
30 x 42 cm
'Atlantik', a series of reed pen drawings in blue ink, are dedicated to the futile attempt of setting down the continuous movement one is surrounded by on the open sea. The blue ink's strokes, corresponding to the depth of the sea, constantly risk getting lost in the plenitude of forms, and evoke patterns that turn into manifold landscapes.
What happens when I click "Inquire"?
When you click "Inquire," you send an e-mail to epodium gallery to express your interest and we will follow up with you to answer any questions, confirm pricing and availability, if you're ready to go ahead with a purchase. We are also happy to provide contextual materials about the artist.