Close
Drawing Series "Malpais" (No 7)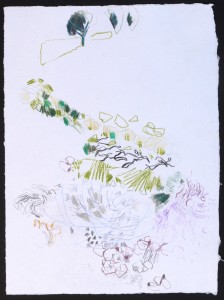 Drawing Series "Malpais" (No 7), 2017
COUNTRY OF PRODUCTION: Germany
Colored pencil on paper
38 x 28 cm
The series 'Malpais' (Bad Land) consists of color pencil drawings and presents a view on an abandoned cultural landscape that is hard to cultivate, from which emigration has taken place for centuries, which claims back nature in its beauty, and which increasingly covers over the traces of human activity. This is an environment that drives people far away unable to nourish them, steeping their love of their homeland in bitterness and helpless anger. The expressive aspect of these sheets, their portrait format and their development and dissemination of an archive-like store of signs combine not least to formulate a reflection on possible strategies within and the canonization of the genre of landscape painting, such as performed by the Chinese 'Mustard Seed Garden'.
What happens when I click "Inquire"?
When you click "Inquire," you send an e-mail to epodium gallery to express your interest and we will follow up with you to answer any questions, confirm pricing and availability, if you're ready to go ahead with a purchase. We are also happy to provide contextual materials about the artist.