Close
Drawing Series "Reflections" (No 12)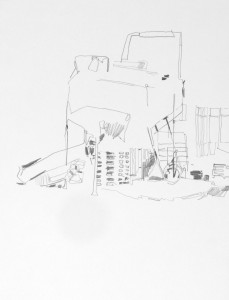 Drawing Series "Reflections" (No 12), 2006 – 2010
COUNTRY OF PRODUCTION: Germany
Pencil on paper
35 x 27 cm
Kausch's drawings are marked by the immediate impression of the space and time of their genesis, as testified by their particularities and idiosyncrasies. Plasticity, light, structures of materiality and movement are seismographically passed from eye to hand and noted on the paper in an incessant stream. No corrections are applied at a later point. In this sense, they constitute both "chronograms" and "topographies", sketching not least their own emergence.
What happens when I click "Inquire"?
When you click "Inquire," you send an e-mail to epodium gallery to express your interest and we will follow up with you to answer any questions, confirm pricing and availability, if you're ready to go ahead with a purchase. We are also happy to provide contextual materials about the artist.