Close
Homo faber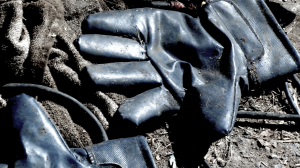 Homo faber
COUNTRY OF PRODUCTION: Germany
Editions: 10
Manchmal ruckelnd und doch ununterbrochen gleitet die Kamera über ein ausuferndes Übereinander: aufgehäufte Werkzeuge Handwerksgerät, Maschinen mit deutlichen Gebrauchsspuren der unterschiedlichsten Gewerke und Aufgaben ausgebreitet, eine Ausschnitt der Menschheitsgeschichte des Bauens und Werkens und Reparierens.
Zweckgerichteten Artefakten aus Holz Metall Kunststoffe Gummi Pappe Papier, in allen Farben, zum Schrauben Bohren Sägen Schweißen Fräsen. Man erkennt offensichtliche Zweitverwendung bleibt an Markennamen hängen, die Hände erinnern manchen Griff, hat man ja solche Werkzeuge selbst schon in der Hand gehabt, assoziiert die dazugehörigen Geräusche.
So evoziert der Blick auf dieses lebendige Museum einen parallelen Film über die damit verbundenen Tätigkeiten, mit Menschen ihre Umwelt gestalten. Seine zeitlichen Dimensionen weisen in verschiedene Richtungen: Spuren der Benützungszeit und wie lange manche Dinge hier schon liegen, Relikte veralteter Techniken und ausgestorbener Berufe. Dieses Puzzle bildet den perpetuierten Zugriff und auch das unaufhörliche Zurückgelegtwerden ab. Man erlebt den Versuch diese Fülle zu bändigen, eine Ordnung aufrecht zu erhalten und wohnt zugleich deren Auflösungserscheinungen bei.
Diese Zeit wird vom Film selbst getaktet. Kontinuierlich ohne Schnitt und Beschönigung mit dem Wackeln und dem Atmen des Kameramanns ist die Sequenz ein Meditation über den staunenden Blick und dabei der Taktgeber unsere Assoziationsketten, eine die andere ablösend und überlagernd, verdrängend. Und der Film selbst ist wiederum – wie er hier zu sehen ist – ein Artefakt am Ende eines langen Produktionsvorgangs.
//
Sometimes shaking and yet continuous, the camera glides over excessive piles: heaped tools, craftsmen's equipment, machines with visible traces of usage, of different trades and for different tasks, excerpts from the human history of building, working and repairing.
Purposeful artefacts from wood metal synthetic materials rubber cardboard paper, in all kinds of colour, for screwing drilling sawing welding tilling. We recognise forms of second use, get caught on brand names; our hands might remember a certain kind of grasp given that we have held these tools before ourselves; we imagine associated noises.
Hence the view on this living museum evokes a parallel film about the related activities by which we form our surroundings. Its temporal dimensions point into different directions: traces of the period of usage and how long some things may have lain around here, relics of obsolete techniques and extinct professions. This puzzle represents perpetuated modes of grasping and an incessant laying-down of objects. The experience is one of taming plenitude, of upholding order and of witnessing disintegration.
The film seems to time itself. Continuous, without cuts and without an attempt to embellish the cameraman's shaking and breathing, the sequence is a meditation regarding the wondering gaze, prompting the viewer's chains of association, layered one on top of the next. And the film itself – as it can be viewed here – is an artefact at the end of a long production process.