Close
Horse (Waves of Amur)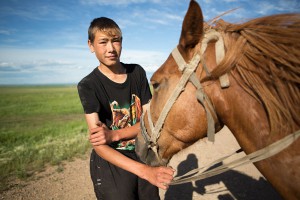 Horse
Series: Waves of Amur, Siberia, Russia, 2013
Fine Art Inkjet Print
COUNTRY OF PRODUCTION: Russia
Size: 60 x 40 cm
Editions: #1/7
Synopsis
In summer 2013 I was invited to represent Germany at The Russian Moment – 20 World's Leading Photographers' Expedition in Russia and to produce a body of work on the occasion of the G20 Leaders Summit on Financial Markets and the World Economy, Saint Petersburg, Russia, September 2013.
My resulting project Waves of Amur documents the economic, social, and personal structures of the villagers along the Federal Highway Amur (Amur M58). The highway recently finished as the last part of the transcontinental route from St. Petersburg to Vladivostok and runs the 2,165 km from Chita to Khabarovsk in South-East Siberia. While Amur M58 brings new economic development to the region, life remains quite and simple for the majority who reside alongside the highway.
What happens when I click "Inquire"?
When you click "Inquire," you send an e-mail to epodium gallery to express your interest and we will follow up with you to answer any questions, confirm pricing and availability, if you're ready to go ahead with a purchase. We are also happy to provide contextual materials about the artist.