Close
House (Jennifer' Family)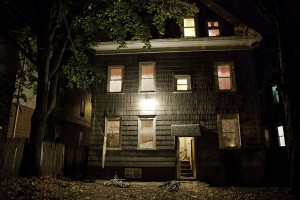 House
Series: Jennifer's Family, Providence, RI, 2009-2011
Fine Art Inkjet Print
COUNTRY OF PRODUCTION: USA
Synopsis
The series Jennifer's Family was born out of the encounter of Louisa Marie Summer with the protagonist Jennifer, a 26-year-old first generation Puerto Rican woman, her partner Tompy, and their four children. They live in a small rundown apartment in South Providence, Rhode Island, an urban neighborhood with a large Afro-American and Hispanic population, where many families live below the poverty line. Crime and unemployment are rampant and foreclosure rates among the highest in the United States.
For more than two years, Louisa Marie Summer documented the daily life of Jennifer and her family. Over time she became an integral part of the family's life and routines and developed a great affection for them. The photographs reveal intimate moments in the everyday lives of Jennifer's family. They show how a young mother at the lower end of the social ladder, in spite of difficult living conditions, poverty, desolation, and illness, manages to remain optimistic and never fails to take care of her children's well being. The precept of Jennifer's partner "Respect goes a long way" not only provides the title for a short documentary, but also describes the relationship between the family and the photographer – a relation based on trust, comprehension and mutual respect. With this work the artist hopes to raise awareness about people who deal with poverty and despair on a daily basis.
What happens when I click "Inquire"?
When you click "Inquire," you send an e-mail to epodium gallery to express your interest and we will follow up with you to answer any questions, confirm pricing and availability, if you're ready to go ahead with a purchase. We are also happy to provide contextual materials about the artist.