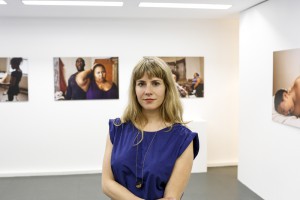 epodium artist Louisa Marie Summer is invited to the Fotomuseum Tallinn. The exhibition "Grenzgänge" opens at Oct. 19th. (until Dec. 11th)
Im Rahmen der Fotografenresidenz, die ein Gemeinschaftsprojekt des Institut français d'Estonie und des Goethe-Instituts Tallinn mit Unterstützung des Deutsch-Französischen Kulturfonds ist, findet vom 19.10. bis zum 11.12.2016 eine Gesamtausstellung im Fotomuseum Tallinn statt, bei der in Narva und in Tallinn entstandene Bilder zum Thema "Städte an der Grenze" gezeigt werden.
Eine deutsche Fotografin und ein französischer Fotograf verbringen einige Tage in den estnischen Grenzstädten Narva und Tallinn und vermitteln mit ihren Fotografien ihren ganz persönlichen Blick auf die Städte als physische Grenze sowie auf psychologische und politische Grenzen.