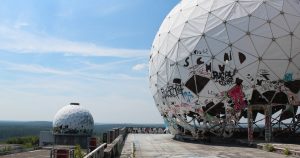 28 Oct – 03 Nov 2019
12 pm – 6 pm
Institut für Alles Mögliche, Ausstellungsraum Teufelsberg, Berlin (Grunewald)
Nichts (nɪçt͡s, german: nothing, emptiness) is an animated film about the history of "nothing".
The fragmentary scenes of the fable-like narrative are presented in the form a philosophical report, which quotes different sources on the theme of the nothing.
In Nichts the anthropomorphic female hare Judy, explores this old idea of nothingness with the help of a message that she finds on a dictaphone thats shaped like a carrot. Her well-known character is from the Oscar-winning animated film "Zootopia" from 2016. The story unfolds the the path of scientists and thinkers who have dealt with the question of what the nothing realy is and how to track it down – and also presents its very own perspective and answer.
The so-called transitory idea of "the nothing" and how it's been discussed in philosophy and its exploration in phisics show us that we can attain truths about phenomena and ideas of which some would claime that it were futile to even speak about them.
2K Video / 25 Min / Dolby 5.1 / 2:1