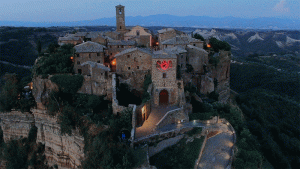 CETHA, a light sculpture installation ©︎ 2019 Grimanesa Amorós
GRIMANESA AMORÓS

CETHA
Civita di Bagnoregio
Palazzo Colesanti, Viterbo, Italy
The sun is an important star and has been for centuries. During my stay in Civita di Bagnoregio, I woke up early one morning and decided to explore my new surroundings. During my stroll, I was dazzled at the strength of the sun beaming on the square. It got me thinking about the town of Civita, it's history, and it's relation to the sun. I began researching about The Etruscan's, who were an ancient people that founded the city, and the remnants of their civilization still linger. The name of this piece is CETHA, which was inspired by the town and its past, translating to sun in Etruscan. CETHA has red lighting with pink hues in its sequence, which represents the sunrise that burns red in the morning and streams its light throughout the town.
Grimanesa Amorós is a New York-based American interdisciplinary artist with diverse interests in the fields of social history, scientific research and critical theory. Through her art she conveys an ephemeral wonder, entrancing viewers from all different backgrounds and communities to become agents of empowerment. She makes use of sculpture, video and lighting to create works that illuminate our notions of personal identity and community. She was a guest speaker at TEDGlobal 2014, earned an NEA Visual Artist Fellowship and an NEA Artist Travel Grant, and participated in the Art In Embassies Program. Her work has been exhibited in the US, Europe, Asia and Latin America.
Grimanesa Amorós is presented in Germany by epodium Gallery.