By SONIA KOLESNIKOV-JESSOP
(via The New York Times)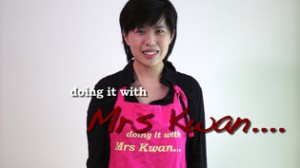 A still from the film "Doing It With Mrs. Kwan… Making Pepper Spray," a satirical commentary on urban life and television cooking shows that will be shown at Art Basel in Hong Kong. CreditCourtesy of Kwan Sheung Chi and Gallery EXIT
Li Zhenhua is a writer, curator and multimedia artist who divides most of his time between Beijing and Zurich. In 2006 he founded Beijing Art Lab, a platform for art and research. This year he is curating the inaugural film section at Art Basel in Hong Kong, a three-day program of screenings. He is also an adviser for the "Digital Revolution" exhibition opening at the Barbican Center in London on July 3.
Mr. Li spoke recently with Sonia Kolesnikov-Jessop about the state of new media art in Asia.
Q. The legitimization of video as an art medium in Asia is often attributed to the South Korean artist Nam June Paik in the early 1960s. When was video art embraced in China?
A. It really started in 1988 with Zhang Peili's work "30 x 30," which depicts, from a static point of a view, gloved hands breaking a mirror, gluing it back together and then breaking it up again. The performance went on for three hours.