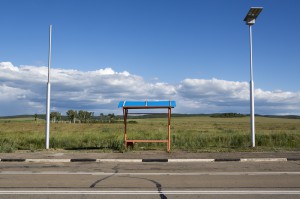 Perspective, Siberia, 2013
epodium gallery is now presenting the photographs of Louisa Marie Summer.
The series Jennifer's Family was born out of the encounter of Louisa Marie Summer with the protagonist Jennifer, a 26-year-old first generation Puerto Rican woman, her partner Tompy, and their four children. They live in a small rundown apartment in South Providence, Rhode Island, an urban neighborhood with a large Afro-American and Hispanic population, where many families live below the poverty line. Crime and unemployment are rampant and foreclosure rates among the highest in the United States.
In summer 2013 she was invited to represent Germany at The Russian Moment – 20 World's Leading Photographers' Expedition in Russia and to produce a body of work on the occasion of the G20 Leaders Summit on Financial Markets and the World Economy, Saint Petersburg, Russia, September 2013. The resulting project is Waves of Amur.