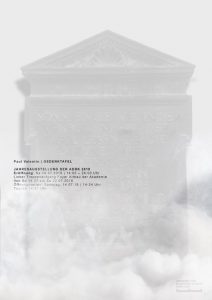 2018 Annual Exhibition of the Academy of Fine Arts
Saturday 14.07.2018 from 14h – 21h.
and 15.07.2018 – 22.07.2018   14 – 21h daily
The memorial plaque in the western staircase of the foyer of the Munich Academy of Fine Arts is not what it seems to be. The artist Paul Valentin has made a replica of it and has pulled it over the original like a second skin – what's unseen is that he had changed the original lettering like an anagram into these new words:
"COULD THEY READ IN THE SECRECY OF THE SIGNS
AND OVERCOME THE FENCES OF THEIR GARDENS 
BUT THEY DON'T SEE IT
AND SO THERE INNERMOST CHRONIST MAKES A MISTAKE"
Despite its prominent place, the historical plaque, which is established 1889, is not remembered by many students or annual visitors. Especially during the summer exhibition at the academy, it is, like many other artistic positions, easily overseen in the flood of presented works. The modest sculpture plays precisely with this problem of lacking attention.
The concept "Fals-Memory" is the turning point of the work – It describes that incorrectly stored memories (such as the false encounter of Bugs Bunny at Disneyland) can hardly be erased from ones memory, even if one anknowledges that it never happened. It may also happen that the original text of the historical plaque is permanently overwritten in the collective memory of the visitors – Both physically during the annual exhibition, as well as mentally in the memory. The Replica takes the place of the original and "covers" it in the truest sense. According to this verdict of cognitive research, Paul Valentin therefore stages his plaque as a memorial for attention – it should be a reminder that the great works of art, the changing experiences, which resonate with us inconspicuously, pass unseen without our attention.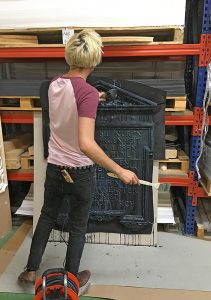 (oxidizing process on the replica foto: Peter Pfitzner)