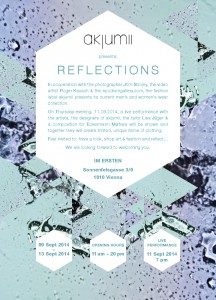 epodium gallery
presents:
REFLECTIONS
Video Art by Roger Kausch
In cooperation with the the fashion label akjumii, which, presents its current men's and women's wear collection.
On Thursday evening, 11.09.2014, a live performance with the artist, the designers of akjumii, the tailor Lisa Jäger & a composition for Eckermann Mizhars will be shown and together they will create limited, unique items of clothing.
Feel invited to: have a look, shop art & fashion and reflect…
We are looking forward to welcoming you.
Live Performance: 11 Sept 2014, 7 pm
IM ERSTEN, Sonnenfelsgasse 3/0, 1010 Vienna
09 Sept 2014 – 13 Sept 2014
opening hours: 11 am – 20 pm