Expect to see participatory work by Rirkrit Tiravanija and Tomas Vu, Pussy Riot-themed surfboards and jungle photography
by DAN DURA
(via The Art Newspaper)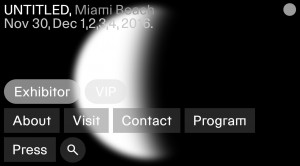 This year's edition of Untitled, Miami Beach (30 November-4 December)—a major satellite fair that runs concurrently with Art Basel in Miami Beach—will feature a number of special artist projects from the likes of Rirkrit Tiravanija and Tomas Vu, along with a collaboration with Miami's Institute of Contemporary Art.
The biggest collaborations are surfing-based, a fitting theme for a beach town, though it should be said: Miami is not known for its waves, nor its surfing culture. Tiravanija and Vu will present RT TV Boards in collaboration with Nathalie Karg Gallery: an installation that includes a number of different elements including surfboards with Beatles lyrics and a t-shirt silkscreening stand staffed by MFA candidates from Columbia University, where Tiravanija teaches. There will also be a number of Pussy Riot-inspired surfboards that attendees can borrow, and a shower for rinsing off later.